A UTAH LAKE CONSERVATION COALITION
INITIATIVE 
HOSTED BY CONSERVE UTAH VALLEY
Utah Lake is the heart
of Utah Valley
Join the call for meaningful change in the 2022 Utah State Legislative Session to the Utah Lake Amendments House Bill 272, passed in 2018, that opened the door to private development of the Lake bed.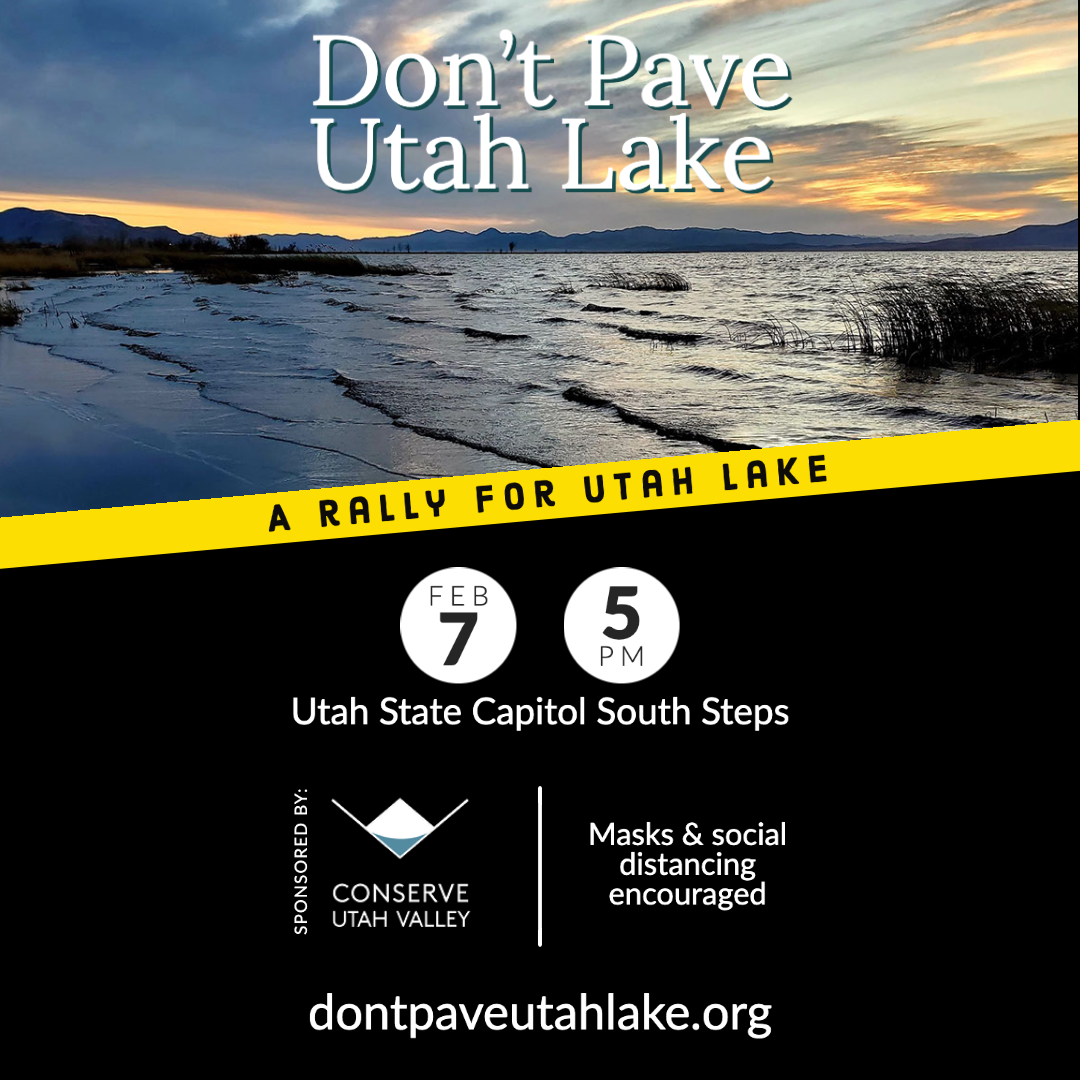 We're organizing a rally in support of Utah Lake during the legislative session. We'll meet on the South Stairs of the State Capitol at 5 pm to show our support and love for the Utah Lake Ecosystem. Utah Lake is on a path to recovery and we invite you to join us in showing support for responsible restoration of this critical resource in Utah's ecology.
Your contribution will fund conservation projects, research and public education. Donations are being collected by Conserve Utah Valley, a 501(c)(3) non-profit, on behalf of the Utah Lake Conservation Coalition. 
We've collected resources where you can find more information about the history of Utah Lake as well as the current issues facing Lake preservation:
Repeal HB272 or lose the Lake
Despite its environmental, cultural, and economic importance, our lake is in grave danger because of a law passed in 2018. The "Utah Lake Amendments" (H.B. 272) created a loophole that allowed the lakebed to be given to commercial developers. Right now, an LLC called "Lake Restoration Solutions" is preparing to build 20,000 acres of dredged islands and house 500,000 people on them. The state legislature gave this company a $10 million loan guarantee last year to subsidize their fundraising and permitting efforts (coverage here).
State resources and taxpayer dollars should not be used to subsidize a real estate venture that claims to have billions lined up from foreign investors. Repealing H.B. 272 will restore Utah Lake's constitutional protection, ensuring Utah Lake is held in "public trust" in perpetuity for all Utahns, present and future.
We call on Utahns from all political backgrounds to stand together to oppose this waste of taxpayer dollars that threatens our valley. Repealing H.B. 272 will ensure that Utah Lake is managed responsibly for the people of Utah.
8 Reasons to Sign the Petition
1. 
Gifting 20,000 acres of lakebed to a private developer would be the biggest government giveaway in Utah history.
2.
Despite false claims by the developers, Utah Lake is on the road to recovery thanks to hundreds of science-based restoration projects undertaken over the past 30 years. 
3.
The proposed project is 370-times larger than the largest freshwater dredging project ever completed and is almost certain to fail, leaving a huge environmental mess for Utah taxpayers to clean up.
4.
Utah Lake provides recreational opportunities, pollution removal, and increasing local precipitation, which contributes to our world-class skiing.
5.
Humans inhabiting islands in the lake would increase the levels of pollution that run into the lake.
6.
Thirty-five million migratory birds and ten million fish call Utah Lake home. Destroying this lake would disrupt wildlife throughout Utah and the western U.S.
7.
These islands would permanently deface our valley, destroying the view of the lake and compromising the natural hydrology and biology that make this lake so resilient.
8.
Dredging and building islands would alter the structure and chemistry of the lake, allowing increased light penetration which would actually increase algae growth.
More than 100 scientists and experts oppose the "Island Project".
Their statement was presented to Utah State Officials in December.
Utah Lake Conservation Coalition
We Have the Power to Impact Our Future, and We're Doing Something About It
A coalition of Utah conservation groups, led by Conserve Utah Valley, has joined forces stop the development of Utah Lake.  You can take two important actions today to support the movement:
Sign the petition
Write your Utah State legislator
First introduced in 2021, The Utah Lake Authority Bill died in Committee. (see news coverage here) Rep. Brady Brammer (R), Pleasant Grove, re-introduced the Utah Lake Authority bill in 2022 (see bill text here) As written, the bill gives the Utah Lake Authority the...
read more
Conserve Utah Valley is a non-profit 501(c)(3) organization committed to protecting and sustaining the treasured canyons, foothills, open spaces, and waters of Utah Valley.
Contact us: info@conserveutahvalley.org