A UTAH LAKE CONSERVATION COALITION
INITIATIVE 
HOSTED BY CONSERVE UTAH VALLEY
Utah Lake is the heart
of Utah Valley
Since publishing this petition page in December 2021 we've made great progress on protecting Utah Lake. See the timeline below for where we are today.
With FFSL announcing the cancellation of LRS's island project, we wanted to express our appreciation to FFSL for their work in protecting Utah Lake. Read the letter and sign below to help us thank FFSL.
An Open Letter to Forestry, Fire and State Lands
Dear FFSL, 
As citizens of Utah we stand with FFSL on the recent decision that was made to reject the proposal by Lake Restoration Solutions to dredge Utah Lake and build islands to house hundreds of thousands of people. 
We support FFSL's decision to reject LRS's proposal for the following reasons:
Quality of life

: Islands in Utah lake would increase pollution, traffic, and limit public access to the lake for sailors and boaters and would mar the beautiful views of a natural lake

Science

: State agencies and over 100 independent scientists reject LRS's premise that the islands project would lead to restoration of the lake.

Unconstitutional and legally unsound

: The Utah Attorney General's office has stated  the islands project is both unconstitutional and legally unsound. Utah law clearly states the state cannot dispose of sovereign land. 

Economy

: Consequences of a potentially failed project would financially burden Utah tax payers and investors and residents while speculation participants would still make money regardless of outcome.
Thank you for your commitment to responsible restoration and your efforts to protect Utah Lake for us and future generations. 
Your contribution will fund conservation projects, research and public education. Donations are being collected by Conserve Utah Valley, a 501(c)(3) non-profit, on behalf of the Utah Lake Conservation Coalition. 
We've collected resources where you can find more information about the history of Utah Lake as well as the current issues facing Lake preservation:
What Does it Take to Save a Lake?
Saving something as valuable as a lake takes a village. It takes everyone rallying together in favor of legitimate restoration and preservation. That's what we saw happen with Utah Lake. When normal citizens found out about the threat of development that was looming over their lake, they came together. 
Over the past year, we have been amazed at how many people have spoken up for Utah Lake. Hundreds of people joined us at summits and conferences to learn about this magnificent natural resource. We have begun to shift the narrative away from describing Utah Lake as a gross disaster to describing it as a beautiful ecosystem in recovery.
Saving Utah Lake also requires the effort of lawmakers to draft legislation that will prevent it from being privatized and destroyed. It needs government agencies to support research on best practices for restoration and to provide recommendations on what projects will help and what ones will harm Utah lake. 
With the announcement from the Division of Forestry, Fire, and State Lands on the cancellation of the islands proposal there is a good reason to celebrate. This was a major success for Utah Lake. But it is important that there is still much that needs to be done before Utah Lake is fully recovered and protected. We still need to repeal HB 272 so that there is no longer a possibility that the State could transfer Utah Lake land to anybody in the future. We also still need to continue to support the ongoing restoration efforts that are currently happening at Utah Lake.
Recent Timeline of Utah Lake Restoration
1. 
2017 – Lake Restoration Solutions (LRS) begins sharing an idea to dredge Utah Lake and create islands out of the dredged materials in the name of restoration.
2.
Jan 2018 – HB272 Utah Lake Amendments passes in the Utah State Legislature creating a pathway for the islands project with an exception to the Public Trust Doctrine allowing for the exchange of lakebed ownership for lake restoration.
3.
April 2021 – After a few years without much public progress on the island project, LRS becomes actively engaged in fundraising and soliciting project support.
4.
Aug 2021 – The Utah Lake Symposium, brings scientists and state agencies together to discuss the future of Utah Lake.
5.
Dec 2021 – Concern about the detrimental impact of the proposed island project on Utah Lake leads a coalition of concerned citizens, environmentalists, and conservationists to form the Utah Lake Conservation Coalition, which publishes a petition to repeal HB272.
6.
Jan 2022 – The leadership team of Conserve Utah Valley and scientist Ben Abbott meet with Rep. Keven Stratton to discuss legislation to mitigate the unintended consequences of 2018 HB272. Rep. Stratton files HB240 for the 2022 Legislative Session.
7.
Feb 2022 – HB240 passes in the legislative session, amending 2018 HB272 to add stipulations for proper process, transparency and constitutionality add stipulations for any restoration projects considered for Utah Lake.
8.
Oct 2022 – Under the process guidelines in HB272, Utah State Division of Forestry Fire and State Lands published their review of the LRS islands project, canceling their application and deeming the project unconstitutional and not in the public interest. Around the same time the Army Corps of Engineers suspends their dredging application because of a lack of scientific and technical information.
9.
November 2022 – LRS says the rejections were based on technicalities and vows to push forward.
10.
January 2023 – Will a member of the legislature propose to repeal 2018's HB272, or will this unconstitutional law remain on the books, leaving Utah Lake vulnerable to development proposals in the future?
More than 100 scientists and experts oppose the "Island Project".
Their statement was presented to Utah State Officials in December.
Utah Lake Conservation Coalition
We Have the Power to Impact Our Future, and We're Doing Something About It
A coalition of Utah conservation groups, led by Conserve Utah Valley, has joined forces stop the development of Utah Lake.  You can take two important actions today to support the movement:
Sign the Letter
Write your Utah State legislator to sponsor the repeal of HB 272 in the 2023 legislative session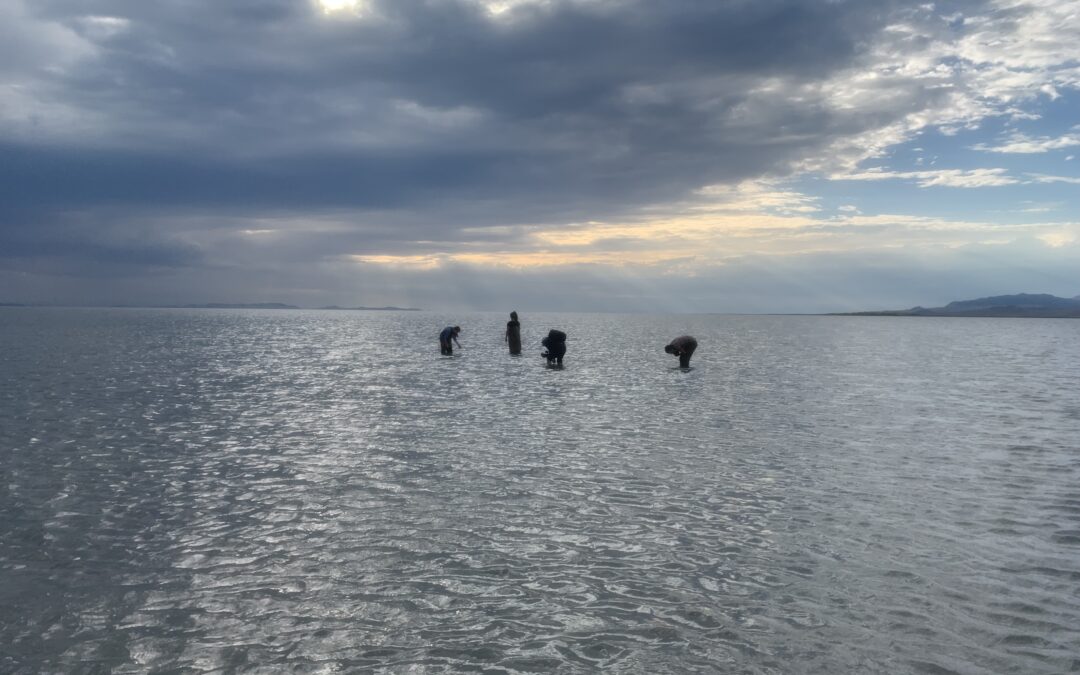 In 2021, Conserve Utah Valley was a fledgling grassroots organization. We got our start when Bridal Veil Falls, a natural treasure of Utah Valley, was under threat of private development. After a few intense months of work, the Falls was preserved by an Utah Open...
read more
Conserve Utah Valley is a non-profit 501(c)(3) organization committed to protecting and sustaining the treasured canyons, foothills, open spaces, and waters of Utah Valley.
Contact us: info@conserveutahvalley.org